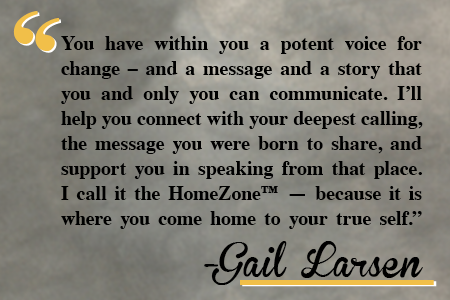 "This not only will help you transform your speaking, but it will help you hone in into what is the most important thing you should be doing with your life."
–  Lona Alia
Discover the path to a dramatic shift in
your capacity to speak and be heard!
Open hearts, inspire change, and move others to act with this comprehensive learning adventure
that brings the celebrated four-day Transformational Speaking Immersion directly to you!
When you take the time to catch up with yourself and give voice to who you are and what you love, you change, your life changes, and you bring healing to our world.
Yet most of us are in jet lag and haven't caught up with who we've become in this amazing journey called life. We're either in a growth spurt where we haven't yet found the words to communicate our experience, or we're unduly attached to what has worked for us in the past. When we look outside ourselves for a strategy, instead of inside where our truth and originality reside, we don't even know our best stories and material.
The original, amazing part of your own story often needs to be reawakened and explored. At Transformational Speaking—Online! we dive deep. We find buried treasure. In the process, we reach for creation of your new expression rather than dictation from an old mindset.
When you find and trust your true voice, you'll find your way to speak and be heard. You'll grow bolder as you bring your gifts fully to the world and make the contribution that only you can make. Then you will step into the message you were born to share with the audience you are destined to serve!
Through Transformational Speaking™—Online! you will:
Appreciate and honor who you really are by claiming your "Original Medicine,"


the gifts and talents that you and you alone possess

Identify and develop your core message, the foundation for your branding


and any presentation you ever make

Move beyond the comfort zone, where most speakers stop,


to the Home Zone™ where your power as a speaker emerges

Understand the four levels of engagement and how your story can influence people


whose worldviews differ from your own

Discover the voices you've silenced that bring you and your speaking alive

Appreciate your own S/Hero's Journey and use your stories to move others

Make fear and nerves your allies with energy management practices that bring you home


to yourself so you embody your message and connect authentically with others—with ease!

Dump the script with an easy method of presentation development


that supports both spontaneity and structure

Learn to use your authentic power with those who can hear you, rather than the


force of argument with those who can't—and in the process, find your tribe!

Simplify and amplify all your decisions by trusting your medicine and your message


as touchstones to what to say yes to and what to say no to.

Just imagine . . . what it will be like when you stop believing that some new strategy will finally be your ticket to a sustainable business, and instead start believing in yourself!

Each of the seven modules is filled with step-by-step training audios, worksheets, and video conversations with Transformational Speakers to support you in applying what you're learning. You'll have 24/7 access to the Real Speaking® Academy to listen to the audios and view videos of Transformational Speakers in conversation and in action. Our live group calls provide a forum to get answers to your questions, strategies for any challenges that have come up, and coaching as you explore what's emerging for you. There's also a private Facebook community to leave comments, post short videos for feedback from Gail and the group, find a partner or create a small Circle of Friends, ask questions, and compare notes with others on the Transformational Speaking journey. You get all the teachings and processes of the live Immersion in this elegant online course, and you can start right away!