In 2014, Gail Larsen was besotted by Joseph Campbell's statement that the Holy Fool is the most dangerous person on earth and the most threatening to all hierarchical institutions. That's because the Holy Fool has no concern for naysayers, and no one has power over him (or her). They are not limited, not stoppable, not controllable. Holy Fools follow their own inspired paths to do what needs to be done and do it, no matter what. Their actions make a difference in creating a more just and sustainable world in support of all of life.
Inspired by the many Transformational Speakers who exhibit these Holy Fool qualities, Gail declared April 1 a special holiday: Holy Fools Day! We've been encouraging Holy Fools ever since by hosting annual online events to bring forth their stories to shine light on the inspired action they are taking.
Here's your inspiration for Holy Fools Day 2023!
______________
Are you a Holy Fool?  Are you moved in these most interesting of times to apply your courage to shape both your own and our collective story?
We'd love to hear what action the Holy Fool in you is inspired to take. Please join our Facebook community Calling All Voices: Activating Your Holy Fool and tell us what holy foolery you're up to!
______________
The Holy Fools we've featured since 2014 rock. Sometimes what they did was accidental; sometimes it was by design. But they all found themselves at a choice point where they had to step out in the direction of what they believed just might be possible. Let them inspire you to do the same!
» Listen to our 2023 Holy Fools with Jennifer Ness Schmid, Gayle Colman, Kathe Crawford, and Robyn Youkilis
» Listen to our 2019 Holy Fools with Patrick O'Neill on Radical Self-Trust
» Listen to our 2018 Holy Fools from the Chi Center in New Mexico with Wisdom Healing Qigong Master Mingtong Gu, Sacred Activist Andrew Harvey and a fervent group of transformational speakers
» Listen to our 2016 Calling All Voices with Susan Hyatt, MaryAnne Howland, Amy Jo Martin, Zoe Tryon and Suzy Batiz
» Listen to our 2015 Holy Fools Diana Carson Chapman, Marie Forleo, Mike Hiestand, Mary Beth Tinker, Manuel Maqueda
» Listen to our 2014 Holy Fools Karen Brody, Chris Jordan, Sam Ko, MD., Charles McAlpine, Atina Diffley
---
More You Can Do to Express Your Holy Fool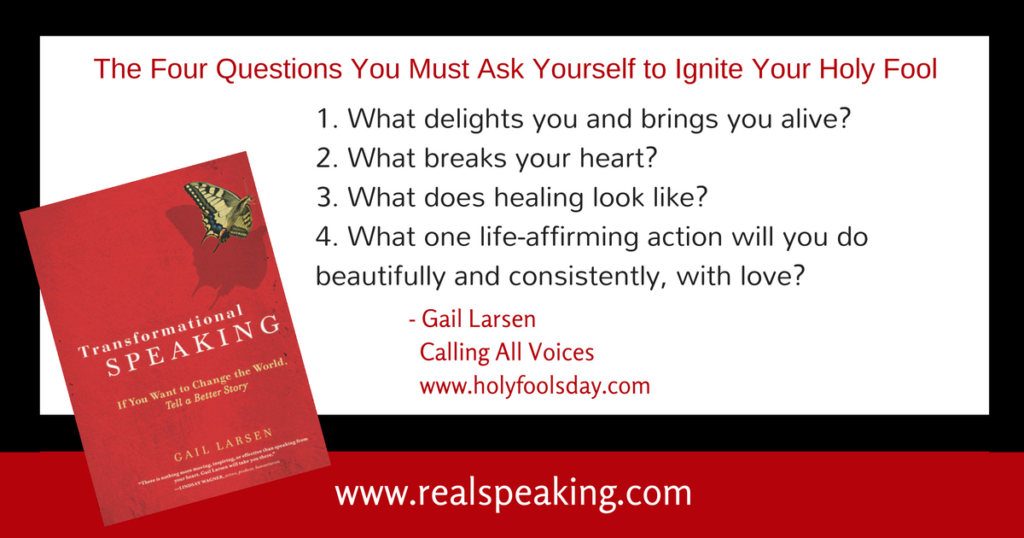 Happy Holy Fools Day to One and All!
---

---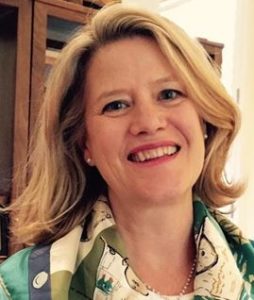 Here's what Kristen Carter, one of the graduates of Transformational Speaking-Online! had to say about her experience.
"I've been part of a group that's learning how to 'create six-figure courses' for about nine months but keep resisting progress because I wasn't quite sure what I really wanted to say, why I was qualified to say it, and to whom I was speaking. All of that is becoming much clearer as I move through your course.
"I love the way it's taught, too; the combination of videos, audio, recorded calls with participants and the written materials make it easy to grasp the content and see how it's applied. I have done every step and can really see the difference in my speaking over the few videos I've done!"
---

---
Visit Gail's site • www.realspeaking.com