Joseph Campbell said the Holy Fool is the most dangerous person on earth because s/he is willing to break from convention to take an action that is inspired from within. As part of Gail Larsen's Transformational Speaking reUnion at the Chi Center in Galisteo, NM, we celebrated the Holy Fool that lurks within each of us to inspire you to become the radical change artist your soul is calling you to be!
Gail Larsen initiated Holy Fools Day in 2014, and in this fourth year of bringing our spark of madness to the world, listen to Gail, Wisdom Healing Qigong Master Mingtong Gu, Sacred Activist Andrew Harvey and a fervent group of transformational speakers inspire you to take your own wild leap of faith. What one bold action are you ready to take toward the change you want to see in the world?

Rodrigo Allel – Santiago, Chile 
The Original Medicine module introduced "a very fundamental process of who I am, what's my essence? When I stand in that essence, that takes away the fear. It really helped me on where to stand, how to find that space inside myself, to find that voice inside myself as well.

Lori Robinson – Santa Fe, NM:
Original Medicine really is like finding your essence. . . naming it is like knowing your fuel, knowing what grounds you, and it brings confidence and a calming; this is who I am. I think everybody, whether they want to speak in the world or not, should at least take  the Original Medicine course because it's so powerful for your life.
You can also dive right into the full Transformational Speaking Online! course. Seven rich training modules–including Original Medicine–to support you in owning 
your true power and bringing your clear, strong voice into the world in support of what you love. 
Learn more.
---
More You Can Do to Express Your Holy Fool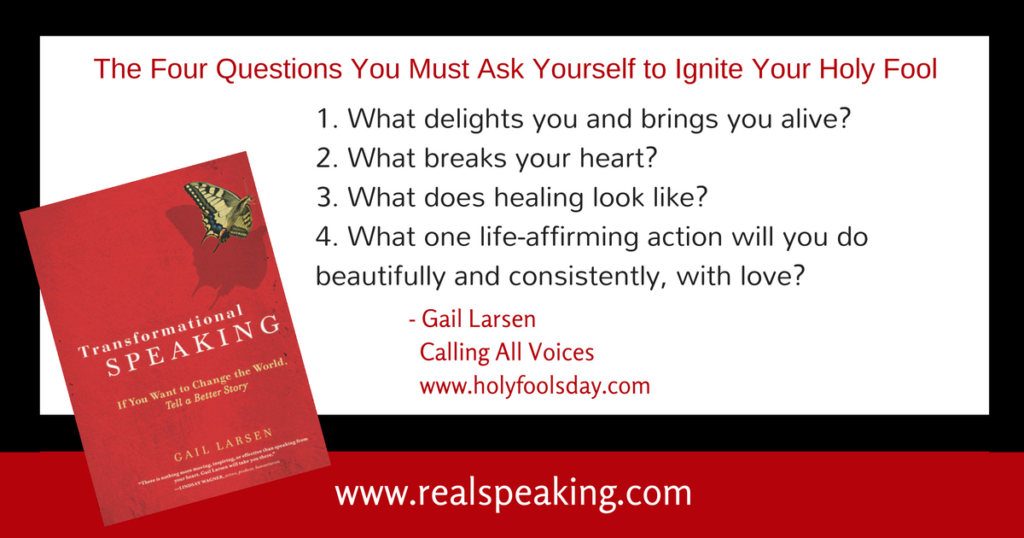 Listen to our Holy Fools from 2014, 2015 and 2016.
The Holy Fools we've featured rock. Sometimes what they did was accidental; sometimes it was by design. But they all found themselves at a choice point where they had to step out in the direction of what they believed just might be possible. Let them inspire you to do the same!
» Listen to our 2016 Calling All Voices with Susan Hyatt, MaryAnne Howland, Amy Jo Martin, Zoe Tryon and Suzy Batiz
» Listen to our 2015 Holy Fools Diana Carson Chapman, Marie Forleo, Mike Hiestand, Mary Beth Tinker, Manuel Maqueda
» Listen to our 2014 Holy Fools Karen Brody, Chris Jordan, Sam Ko, MD., Charles McAlpine, Atina Diffley
Happy Holy Fools Day to One and All!
---

---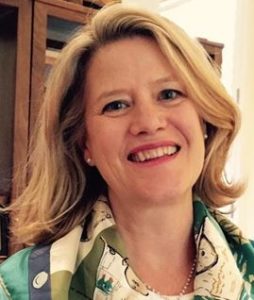 Here's what Kristen Carter, one of the graduates of Transformational Speaking-Online! had to say about her experience.
"I've been part of a group that's learning how to 'create six-figure courses' for about nine months but keep resisting progress because I wasn't quite sure what I really wanted to say, why I was qualified to say it, and to whom I was speaking. All of that is becoming much clearer as I move through your course.
"I love the way it's taught, too; the combination of videos, audio, recorded calls with participants and the written materials make it easy to grasp the content and see how it's applied. I have done every step and can really see the difference in my speaking over the few videos I've done!"
---

---
Visit Gail's site • www.realspeaking.com